This is a very special project, together with singer Lhamo Dukpa from Bhutan. Traditional Bhuddist mantra meets electronic music!
The Green Tara mantra is one of the most important Bhuddist mantra's.

As green is the universal color of healing, regeneration, and growth, the Green Tara embodies the healing energy of release from fear and ignorance. Human ignorance comes in many forms—from jealousy to pride—and it's the healing energy of Green Tara that brings awareness and relief from these negative aspects.

She appears as a female bodhisattva in Mahayana Buddhism, and as a female Buddha in Vajrayana Buddhism. She is known as the "mother of liberation", and represents the virtues of success in work and achievements.

"Thank you so much Leonardo Soundweaver for the wonderful music arrangements for the Dolma Chant. May Green Tara bless all the sentient beings around the world and leberate them. Inspired by His Holiness Dalai Lama's advise to chant Om tare tutare ture Soha at this situation. Thank you la."
(Lhamo Dukpa)

Chanted by Lhamo Dukpa.
Produced & arranged by Leonardo Soundweaver.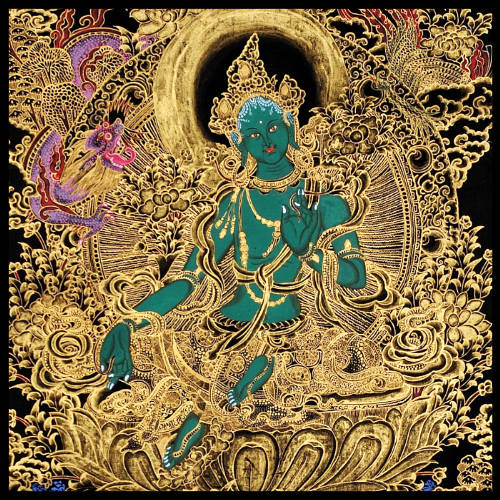 You can get a free download of the mantra on bandcamp!