Another Son of Ohm song on vinyl, Telefunken Baby from Zeitgeist. This is the wonderful 'Head Rush' by Fruits de Mer!!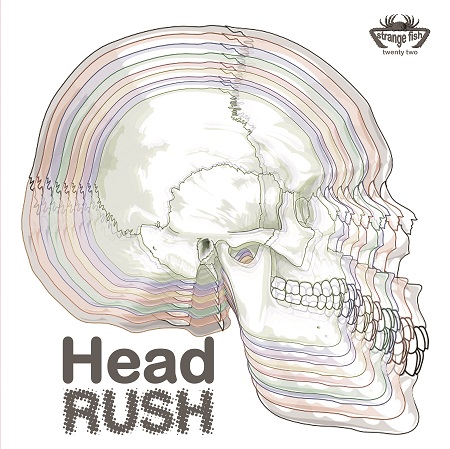 This is the promotional text by Fruits de Mer:
We love 70s German bands round here, in case you hadn't noticed – so after 'Head In The Clouds' and 'Head Music 2', we have 'Head Rush' – a 3LP+CD collection of tracks that show the continuing influence of bands such as Can, Neu!, Harmonia and Kraftwerk, and the 'motorik beat' that was pivotal to some of the most enduring recordings to come out of Germany in the early seventies.

Artists involved are a combination of old friends of the label, artists we met through recent projects like 'Head Music 2' and 'Clouds', along with some Fruits de Mer innocents, who will no doubt be regretting it in the morning: with contributions from as far afield as Peru, Australia, Italy and Fleetwood, Lancs I think it's fair to say the motorik beat goes on.
LP1:
1. Giacomo & Carolina – Sunrise, Part 7 (5:05)
2. Silver Vials – Follow The Sun (6:05)
3. Das Blaue Palais – Zeitfeld (Dusseldorf Motorik Mix) (8:11)
4. The Love Explosion – Anarchy! (3:58)
5. David Oakes – The Sahara (2020 Remix) (5:04)
6. Sonic Trip Project – Getaway (11:10)

LP2:
1. Moon Goose – Shiny Man (5:41)
2. Oslo Tapes – Obsession Is The Mother Of All (5:54)
3. Jay Tausig – Ecstatic Engines (8:42)
4. Son Of Ohm – Telefunken Baby (12:52)
5. Alber Jupiter – Martine A La Plage (7:15)

LP3:
1. The Lost Stoned Pandas – Motorik Wah Nine (10:16)
2. Motor!k – Tyrants (10:28)
3. Culto Al Qondor – Ei (12:19)
4. Psychic Lemon – Jam 7 (7:01)

bonus CD:
1. Taras Bulba – Vuh Part 1 (3:56)
2. Vince Cory – 69 Wheeler (7:53)
3. Psychic Lemon – Jam 5 (8:26)
4. Audio Cologne Project – Grobmotorik (6:51)
5. Taras Bulba – Vuh Part 2 (5:15)
6. Icarus Peel – Der Wald (14:14)
7. The Legendary Flower Punk – Watussi Live (30:25)

Three LPs of motorik-tinged or drenched music, together with a bonus CD of tracks that arrived late, didn't quite fit the overall theme or wouldn't fit onto vinyl (30 minute tracks are a bit of a challenge) – but we wanted to share with you